Maga Maharaju Telugu Movie review and rating : 2.5/5
Maga Maharaju is dubbed version of Tamil film Ambala and it is action entertainer film was directed by Sundar C. This movie has Vishal and Hansika Motwani in the leading roles along with Merina Sathishin as comedy character.This the second movie in Sundar C and Vishal combination, earlier both joined for Nataraju Thane Raju, but this film is not released. Adhi of Hiphop Tamizha composed music for this film. Maga Maharaju Movie is produced by Kushboo Sundar ,Vishal, Sundar C and cinematography by Gopi Amarnath .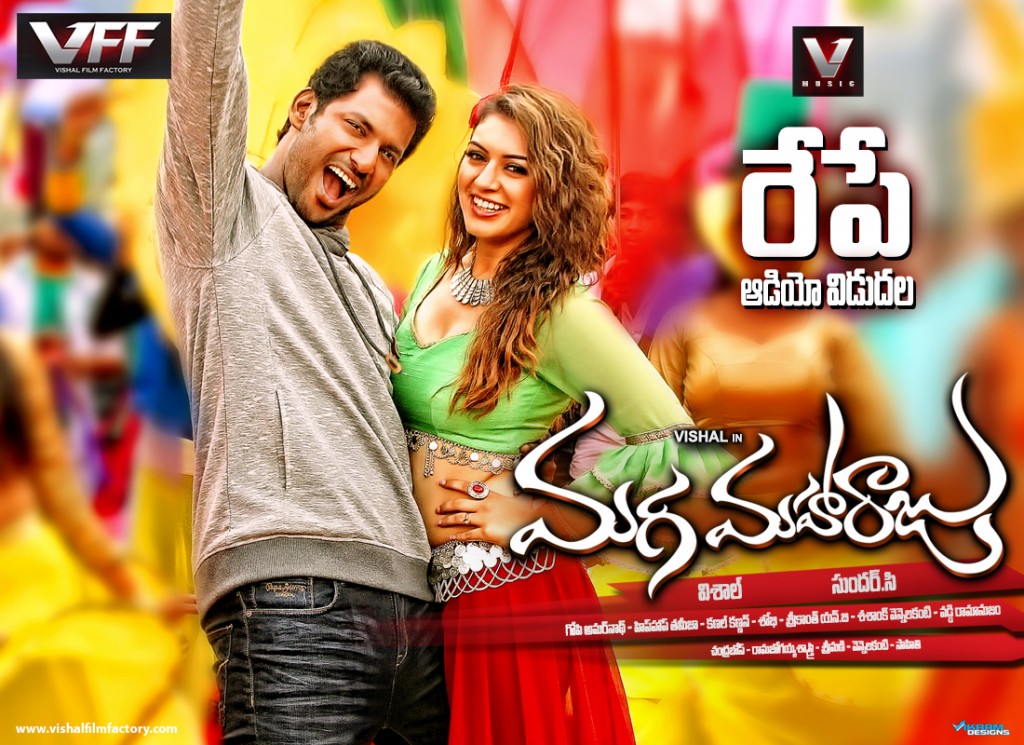 Maga Maharaju Movie review and rating :
Directed by Sundar C.
Produced by Kushboo Sundar , Vishal , Sundar C.
Written by Radhakrishnan (Dialogues)
Screenplay by S. B. Ramadas
Story by Sundar C.
Starring Vishal , Hansika Motwani ,Prabhu
Music by Hiphop Tamizha
Cinematography Gopi Amarnath
Edited by N. B. Srikanth
Production company :Vishal Film Factory
Distributed by Avni Cinemax Suara Networks (Malaysia)
Release dates February 27, 2015
Running time :146 minutes
Country India
Language Telugu
Budget 20 crores
Maga Maharaju Movie critics review and public talk :
Vishal as Saravanan is a person in Ooty who runs a business of gathering people for the politicians. One day he met Hansika as Maya and fell for her. However, Santhanam as Rajshekar also falls for her. Somehow, Saravanan(vishal) convinced Rajshekar to not fall for Maya and Rajshekar is a police inspector. Due to several mishaps, he was fired and started working as a hotel doorman then He was shocked to find Saravanan and Maya going out together. Santhanam asked Saravanan how he made Maya to fall in love with him. As Saravanan finished his story it was revealed that he was Saravanan who indirectly caused those mishaps to Rajshekar. Rajshekar that enraged hired Kumaran (Vaibhav), who is a specialist in breaking other people love. Kumaran then sends Andrea Jeremiah who shows an edited of her and Saravanan together. This causes a conflict in the relationship of Saravanan and Maya. Due to love failure Saravan consumed too much alcohol and was unconscious. Kumaran who was also at the bar helped Saravanan and dropped him at his house. Saravanan's(vishal) mother, Thulasi (Thulasi) who was ashamed of Saravanan's behaviour send him to meet his father Aalavanthan (Prabhu) and his younger brother Shakti (Sathish) at Madurai. This is the movie concept.
Watch the Movie in theaters only don't encourage piracy.
Maga Maharaju Movie theatrical trailer: